Grow Your Revenue with ODIO
Gain insights of your sales and support team, your business opportunities, and your market with ODIO.
Schedule DEMO

Business Conversational Intelligence
Real Customer Results with ODIO
ODIO looks for "smart signals" in calls, which help managers steer teams toward the types of conversation and tone that is likely to drive more revenue, strengthen customer engagement, reduce churn, and help you build better products.
ODIO analyzes customer conversations and reveals trends in how your external-facing teams operate. Our AI-powered analysis helps you make smarter decisions, increase revenue, improve customer engagement, and build better products.
Raise the Bar, Not the Volume
Where no call has gone before.
Our proprietary AI technology guides you towards achieving better outcomes. We build our own neural networks and support them with an active learning pipeline to ensure we are continuously learning what matters most to your business.
Accurate transcriptions. Naturally.
Open-source speech software isn't accurate enough to capture industry-specific jargon and acronyms that form the basis of everyday business conversations. We have built our speech recognition technology from the ground up; we customize our language and acoustic models to deliver incomparable speech recognition, yielding an industry-low 8.8% word error rate.
Productive conversations.
Customer conversations are full of stories of real user experiences that can guide product research beyond the sandbox and into the field, letting you anticipate and develop new features or offerings ahead of the game.
The AI-ce Up Your Sleeve
Our best in class automatic speech recognition (ASR), proprietary AI, and natural language processing (NLP) frameworks reveal hidden trends, recommend actions, and predict call outcomes in realtime, live, during the conversation.
All for One and One for All
Whether you're CEO, support lead, or sales rep, ODIO is the realtime voice analytics solution you need to identify, learn from, and act on customer insights.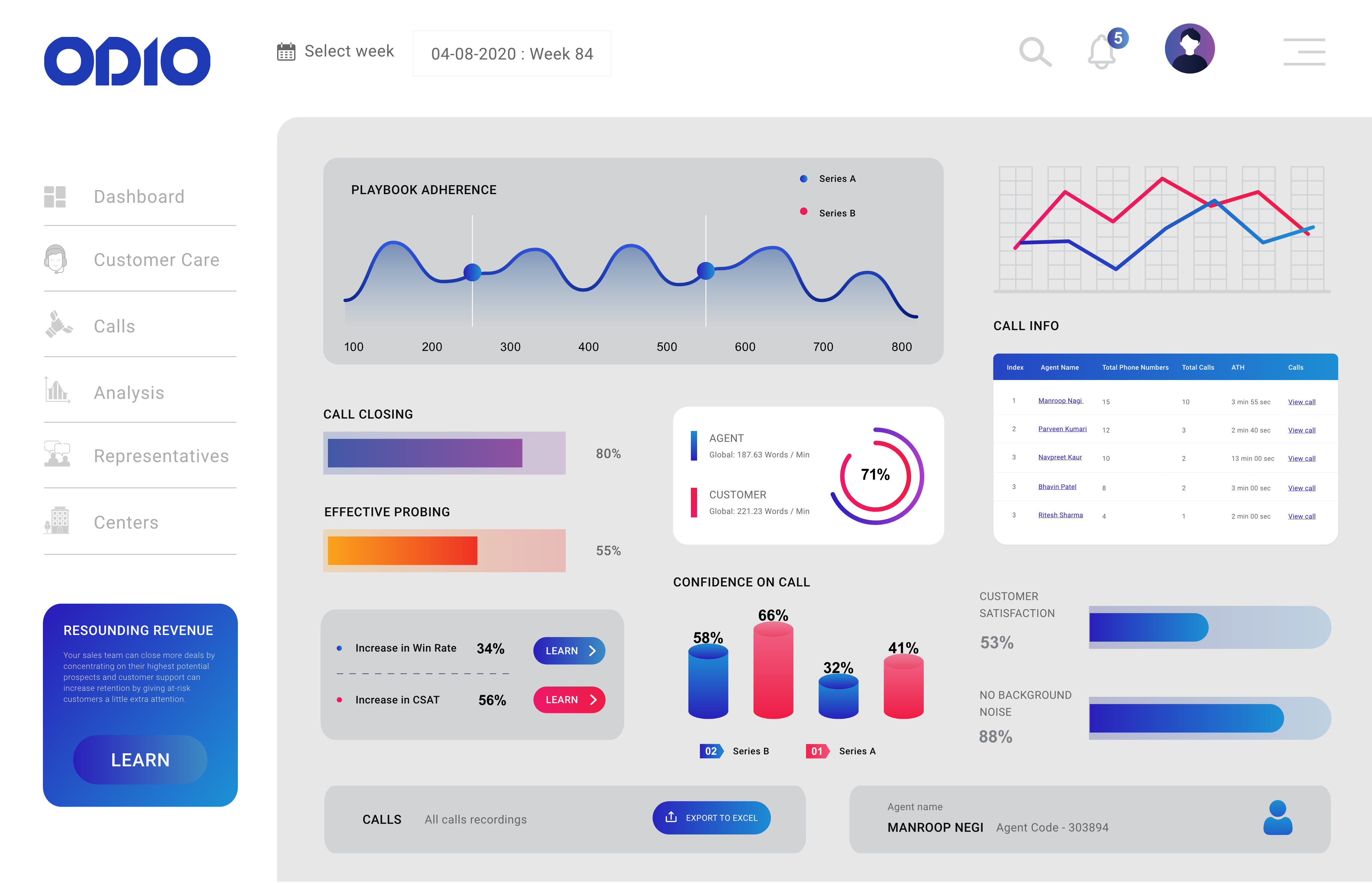 Schedule a personalized demo now!